Our industrial partners
Swissbit AG is one of Europe's leading suppliers of industrial SSDs and flash memory cards, security products and embedded IoT solutions for demanding applications. Swissbit combines its unique skills in embedded storage technology and IoT with advanced packaging know-how. This expertise enables our customers to store and protect their data the best possible and most secure way.
The company develops and manufactures "Made in Germany" industrial security and storage products at their factory in Berlin with maximum reliability, long-term availability and customer-specific optimization .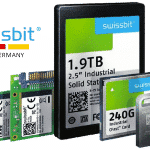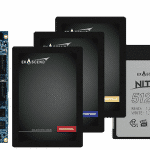 Exascend is passionate about storage technologies and aware of the benefits that a top-notch storage may provide in a variety of applications.
Their experience with high-quality industrial and business storage modules and cards gives them an unmatched advantage when it comes to understanding the most demanding storage applications on the planet. As with their products specifically designed for the film industry, which combine extremely strong performances with industrial toughness to deliver unmatched cinematographic performances even under the most trying circumstances.
APRO was established in April 2004 and has since grown to become Taiwan's top supplier of industrial Flash NAND storage products as well as one of the major manufacturers of this type of storage globally. Based in New Taipei City, APRO.
A trutsworthy manufacturer of industrial Flash NAND storage.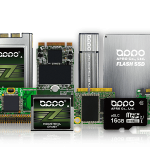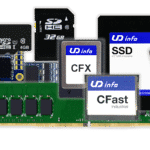 The primary aim of UD info is to offer integrated and customized storage solutions together with after-sale services and support to ensure complete customer satisfaction. This is why we decided to work with this Taiwanese manufacturer who is based in New Taipei City.
Unlike other flash memory manufacturers that focus on the high-volume commodity market, Intelligent Memory tailors its products to meet customer needs in the industrial and embedded markets. "Low Volume, High Value Add" is key to them.
The goal is to serve these markets and their unique needs for reliable storage solutions across multiple interfaces, form factors, and capacities. Their diverse product line offers customizable speed and temperature ratings, the longest life and durability in even the harshest environments. For this reason, we have decided to integrate the wide range of industrial flash references of Intelligent Memory into the products offered by Mozaïk Storage.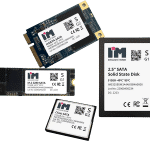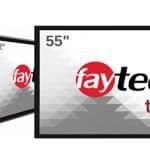 faytech AG's reference list is quite long as their products are used by companies like Bechtle, Continental, Honeywell, Unilever, Bosch, Komatsu, Qualcomm and many more.
Faytech's touch screens and PCs are used in many applications. Customers use them for media center and home automation applications, manufacturing sites use displays to control machines, and retail stores and restaurants use the display solutions to make their sales process more efficient.